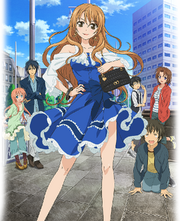 Golden Time (ゴールデンタイム Gōruden Taimu) is a multi-stream series by Yuyuko Takemiya.
Media
Light Novel
Main article: Golden Time (Light Novel)
Visual Novel
Main article: Golden Time: Vivid Memories
Manga
Main article: Golden Time (Manga)
Anime
Main article: Golden Time (Anime)
Plot
Banri Tada is a new student at a private law school in Tokyo who lost his memories after accidentally falling off a bridge after his high school graduation. At the time of the accident, Banri's soul, which carried his memories, also escaped from his body, and became known as the "Spirit of Banri Tada."
After the opening ceremony at his law school, Banri gets lost while trying to find his way to the freshman orientation and he ends up running into another lost freshman from the same school called Mitsuo Yanagisawa. While arriving at their intended destination, the new friends are interrupted by a very beautiful girl who hits Mitsuo across the face with a bouquet of roses before giving them to him.
It turns out that this stylish and pretty woman is his childhood friend Kouko Kaga! When they were just children, they had promised to marry each other one day, but, in order to escape from her, Mitsuo had gone out secretly and taken the examination for this well-known private college. Little did he know, she also took the law school entrance examination and won't let him escape from her!